Genuine Kia Parts and Accessories Online Store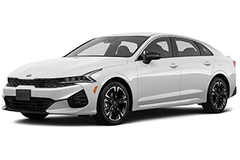 Kia is a leading worldwide auto manufacturer, one of the largest in the world. Kia's journey to making automobiles, has been through many changes throughout its lifespan, and was acquired by Hyundai in 1998. Kia's American division is known as KMC Inc, Kia has been continually increasing its presence in the American automobile market, and offers widely acclaimed models such as the Kia Soul, and Telluride. Today the brand, and Kia parts, are known to symbolize innovation, quality, and a rich driving heritage, thrilling car enthusiasts the world over.
Recently Kia has been delighting the auto world with increasingly noteworthy models. The Kia Telluride, is a standout midsize SUV, which has gathered accolades for its attractive design, and attractive value. The Kia Seltos, is a great vehicle for making urban commutes stylish with its design and features, while the Kia K5 reimagines the midsize sedan with its modern styling and technological innovation. The Kia Stinger is a bold performance minded sedan with a potent engine and a sleek fastback silhouette.
Kia Motors has continually been pushing boundaries, with advanced powertrain technology. Kia's latest engines emphasize performance, efficiency, and reduced emissions. One of the most vital Kia parts is the Smartstream powertrains, which include turbocharged gasoline direct-injection engines, offering improved fuel efficiency, and greatly reduced CO2 emissions, without compromising performance. As far as eco-friendly models, Kia has greatly expanded its plug-in hybrid and electric vehicle offerings. In terms of transmissions, Kia has introduced the Intelligent Variable Transmission (IVT), which is a variation of the continuously variable transmission (CVT)that is intended to provide a much more natural driving experience. For Kia drivers looking for sporty performance, some Kia models feature a dual-clutch transmission (DCT), which offers rapid gear shifting and superior driving dynamics. As Kia parts, and technology continuously evolve, it's essential to keep up to date by checking KiaPartsNow ever expanding inventory.
Opting for OEM Kia parts is the ultimate decision for ensuring top-notch quality and optimal functionality. These parts undergo rigorous quality inspections and are meticulously crafted to meet Kia's factory standards, thereby guaranteeing a hassle-free installation process. At KiaPartsNow we offer all genuine Kia parts at economical prices. Need to return a part? No worries, we offer a hassle-free return policy. Please shop with confidence as all our OEM Kia parts are backed by the manufacturer's warranty and are shipped straight to your doorstep. For all your Kia parts needs, shop KiaPartsNow today!